Maker Faire 2007, part 5: Swap-o-Rama-Rama, clothing and food
Makers of clothing and food were also present at the Maker Faire 2007.
A beautiful shirt embroidered with flames, or maybe tree roots, in the shape of a mandala at the center, and at the hem and sleeves.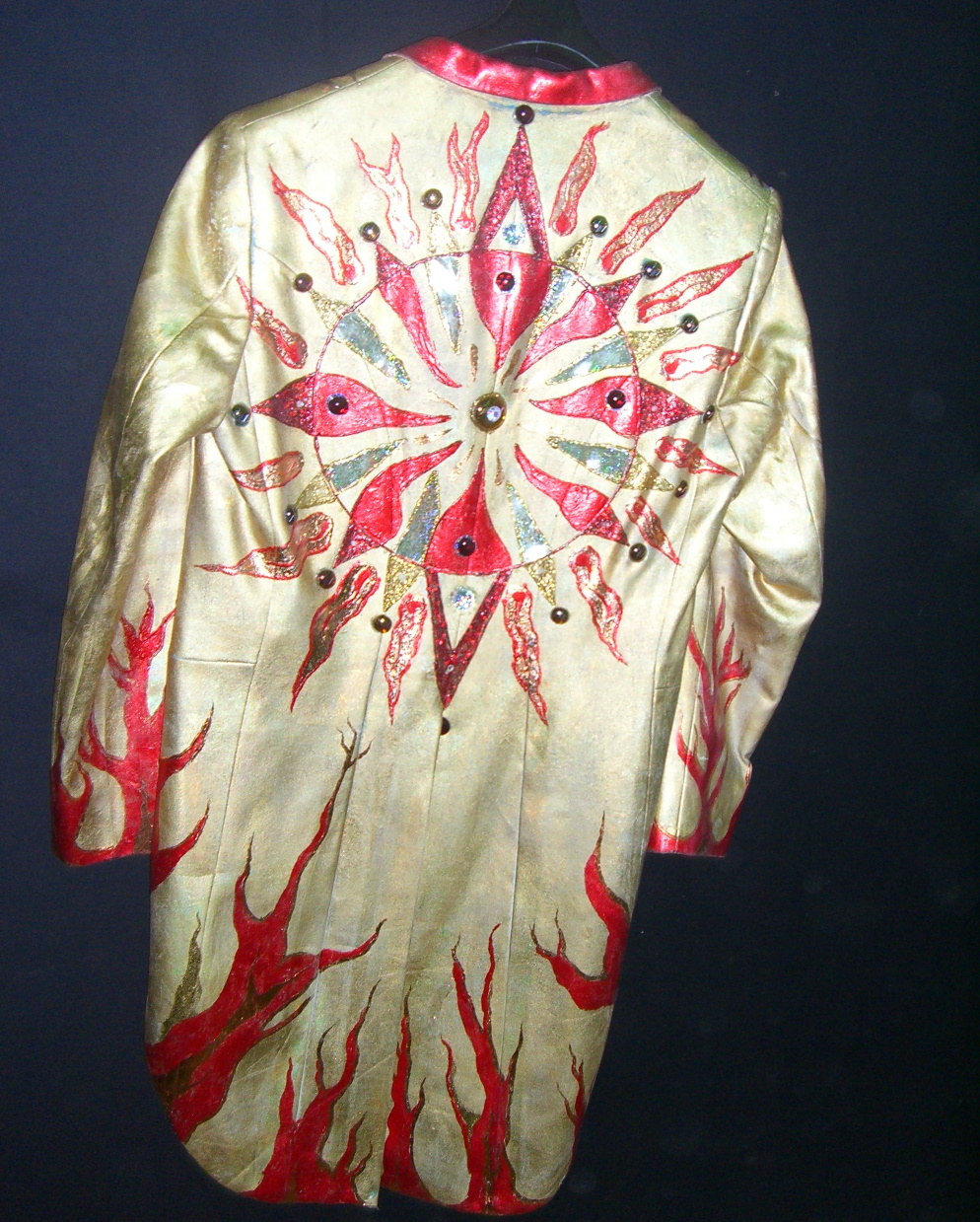 A white dress with a hoop at the bottom
A Maker Faire attendee in an outfit made of wedges of many different fabrics, perhaps several bandanas. I don't know if she was affiliated with the people who made a dress out of men's ties — probably not — but the concept seems to be similar.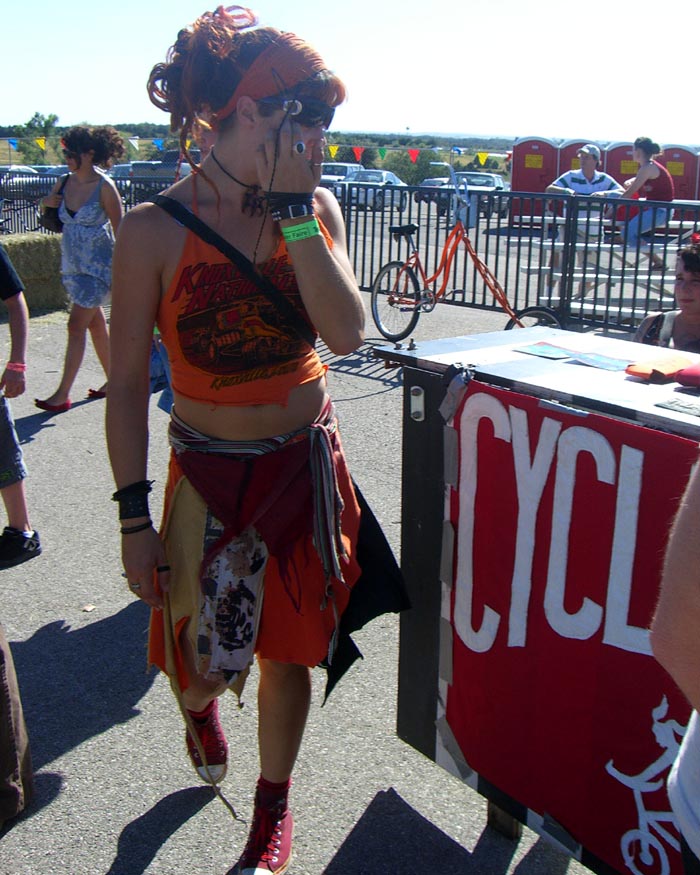 This multitiered dress both resembles a cake stand, and serves as one. There are brownies sitting on the top tier of this dress.
These two women displayed brownies on the edges of their multitiered cake-shaped dresses. They handed out little pieces of biscotti.
Swap-o-Rama-Rama was a two-day event where you were supposed to be able to drop off your used clothing and be taught, or inspired, create new, reconstructed clothes out of stuff people dropped off. I didn't even go to check it out, because I knew it would ignite in me an ache to start making clothes again. Sewing and knitting were my major hobbies in high school and college. They were prompted by necessity: in the time and place I grew up, stylish or original clothes were not available in stores. So there was a sizeable subculture of people (well, women anyway) who made their own clothes. In college, I spent a class after an endless, boring class surreptitiously knitting under the desk, instead of taking notes. I also sewed a lot of my own clothes. Their aesthetic qualities were rather questionable, but they sure were original, because I got a lot of looks on the street. And not of a good kind. More like "huh?"
(The fact that I could not be bothered to make patterns for my clothes — I "measured" the fabric by eyeballing it — probably speaks volumes about the quality of my handmade clothes. In any case, I stopped making my own clothes about the same time I graduated from college. What looks weird-cute on a teenage chick is merely weird on a woman in her twenties.)
So it was with these nostalgic thoughts that I went to check out the Swap-o-Rama-Rama fashion show.
Here is an outfit made at Swap-o-Rama-Rama — a patchwork of squares, a mix of stripes and solids.
Another hard-to-characterize outfit made at Swap-o-Rama-Rama.
A grey dress, also made at Swap-o-Rama-Rama
A dress, or a top and skirt combination from Swap-o-Rama-Rama. The skirt seems to be made of wedges of fabric, and the top, of patches arranged in a brick pattern.
An interesting blue dress from Swap-o-Rama-Rama made of tiers, with a loose belt tied with a knot.
A red-and-yellow dress, or perhaps loose overalls
A madras dress from Swap-o-Rama-Rama fashion show
A black tube dress from Swap-o-Rama-Rama fashion show
A black dress with a red-and-green floral print top from Swap-o-Rama-Rama fashion show
A dress made out of — or with — men's ties from Swap-o-Rama-Rama fashion show
The front of the tie dress
Men's ties were incorporated into the ruffle of this dress too, if I recall.
An outfit consisting of a top and layered shorts made of recycled materials
An outfit with quasi-military esthetics made of something that vaguely looks like backpack straps, but I know that's not what they are. I just can't quite identify what it is. The skirt appears to be made entirely of those straps.
Another outfit in the same spirit, with military allusions. But, unlike the previous one, the straps only form an overlay or a fringe over the outfit.
Here are most of the Swap-o-Rama-Rama models on stage.
Another picture of most of the Swap-o-Rama-Rama models and designers on stage.