Lithuania, September 2005: a scenic route along the Baltic sea coast and Nemunas, with castles
On Monday, September the 5th, we headed back to Vilnius via a scenic route that goes along the Nemunas river. Nemunas is the biggest river in Lithuania, which isn't saying much, because it's pretty small by world standards. Still, there are some beautiful places of historical significance along the way. Most notably, there are two castles that used to be outposts of defense against the Teutonic Order in the middle ages.
Our trip took us through a small town called Kintai, where we passed a burning truck. As it turned out, a spark from a tractor flew and landed on the trailer it was towing, which was full of hay. The hay caught fire. The trailer was sitting in the middle of the road and people were trying to put out the fire.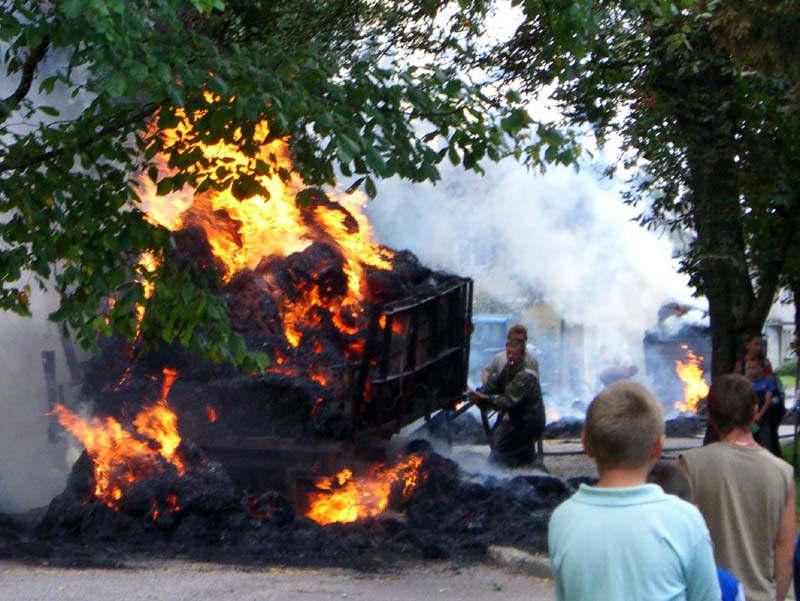 Me with E in a sling, in front of a rowan tree enclosed by bird nets at Ventės Ragas. Ventės Ragas is a small cape on the Baltic sea cost that juts out into the Baltic sea. It has an ornithological station that tracks migratory birds. It's one of the largest places in Europe for the migratory birds to rest on the way to their destination. At the moment we didn't see any birds, much less ornithologists putting rings on them, but we saw nets that are probably used for catching birds. Some speculation ensued on how they catch the birds. There was a rowan tree growing in one of the net enclosures. At this time of the year it was covered in red berries. S wondered if this tree is used as a lure for birds, enticing them to land and get entangled in the nets. My mom wasn't sure.
At Ventės Ragas there is also a lighthouse with an observation deck on top, if "deck" could be used to describe a tiny, cramped balcony with a flimsy railing that barely comes up to your hip. I got a bout of acrophobia just by looking at it. Anyway, this is me in front of the lighthouse.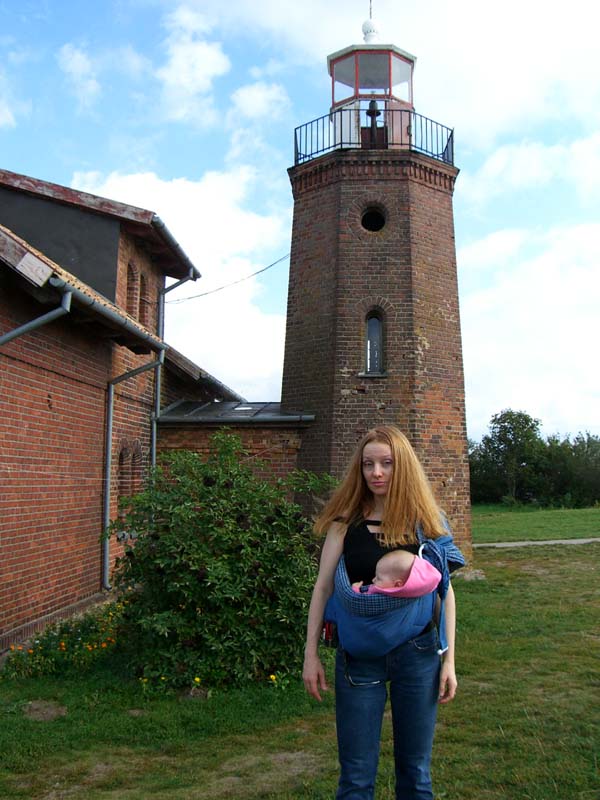 S and I, with E in a sling, at the pier — or quay, or wharf, whatever it's called — at Ventės Ragas.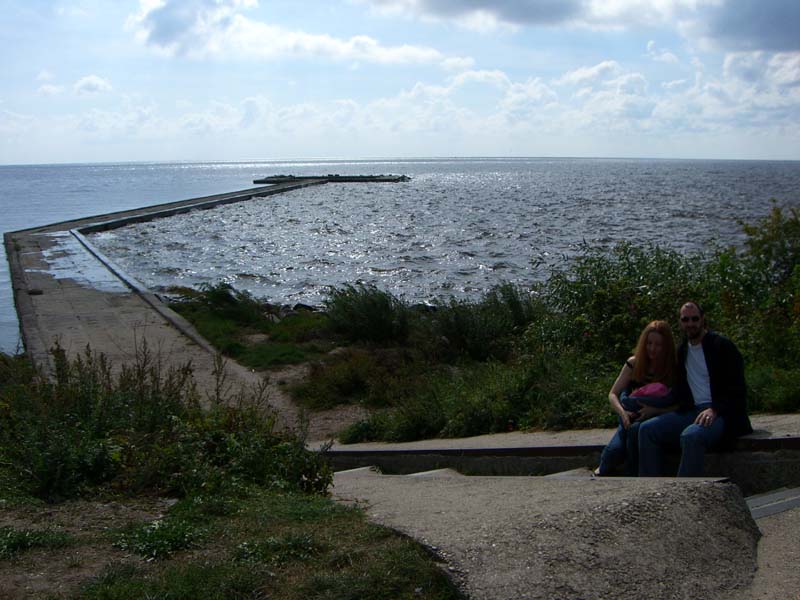 S on the spiral staircase inside the lighthouse in Ventės Ragas as seen from below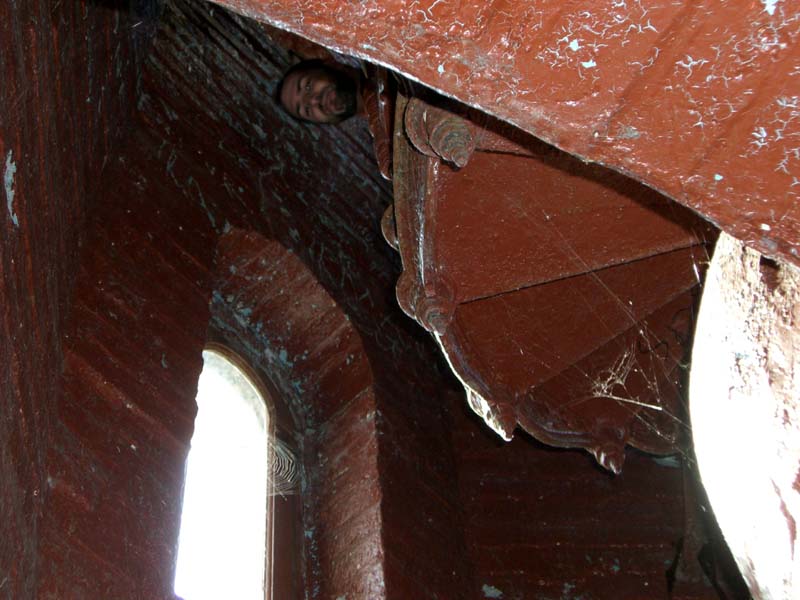 The scenic route along Nemunas river went past two beautiful castles dating from 15th century. They played a role in defending Lithuania from attacks of the Teutonic order. Here I am in front of the castle of Panemunė.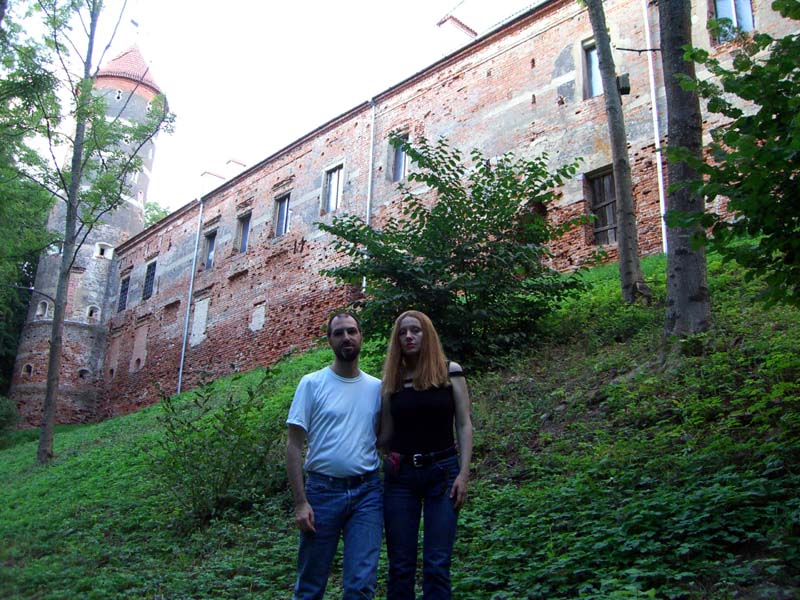 The next castle we visited was the Raudonė castle.
Right next to the castle of Raudon4 there is this monument to the Soviet army troops, in which they are referred to as "the liberators", as they were officially called at the time of Soviet occupation of Lithuania. It was built in the Soviet times, and the inscription says "fallen Soviet soldiers remembered forever". My dad suggested I should get a picture of this monument since it must be one of the last few ones left, seeing how the relics of the Soviet era are rapidly disappearing from the face of Lithuania. Mom thought it's not likely that this monument will be removed because it is a grave of actual Soviet soldiers, and graves are usually left alone, regardless of their connotations. She was probably right, because when I visited this place again in 2019, the monument was still there.
The castle of Raudonė